Take a tour of the Titanic Museum in Branson, Missouri and get inside information on exhibits, hands-on experiences, and more. The experience is educational, emotional and engaging. With Titanic Museum tickets you gain entry into the world of 1912, this tragic historical event and insight into the people of the RMS Titanic. Follow my expert tips on visiting the Titanic Museum to make the most of your time.
Tips on Visiting Titanic Museum
What to Expect
As you enter the museum, you'll exchange your Reserve Branson ticket for the self-guided audio tour gear and a ticket representing one of the 2,208 passengers who boarded the Titanic in 1912. Hold on to this ticket—you'll need it for the last exhibit!
Throughout the museum, which is a 50% scale model of the actual ship, you'll find 400 authentic artifacts from the Titanic. Take the time to take in your surroundings as the entire attraction is meticulously decorated and designed to reflect how the Titanic looked in real life. Plus, you can't miss the exact replica of the grand staircase with gold platings and decor.
You'll also notice that museum representatives are available throughout the attraction. Go ahead and ask them any question you have about the Titanic, its passengers, or crew. The museum representatives are thoroughly trained in the ship's historic, the inner workings of the vessel, and other important information. Whether you're wondering how the ship operated or what the passengers ate on a typical day, the well-educated Titanic representatives will have your answer!
Get Hands-on with History
Be sure to engage with the multiple interactive exhibits in the museum as well. From sticking your hand in freezing cold water to understand what the passengers endured to shoveling coal to operate the ship, you'll get the full experience at the Titanic Museum in Branson. Be on the lookout for the real iceberg, too! Museum guests also have the opportunity to experience what life was like for 1st, 2nd, and 3rd class passengers. The museum goes to great lengths to ensure guests have an immersive tour experience and truly understand the stories of passengers.
Before You Leave
At the end of your tour experience, you'll have the opportunity to learn the fate of your particular passenger. Remember, I said to keep your personalized ticket! You will also have the chance to learn the individual stories of the passengers, from toddlers to adults.
All in all, visiting the Titanic Museum is an emotional, yet enlightening experience you don't want to miss!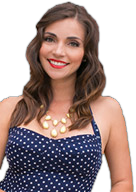 Bianca is a travel professional, and prides herself on her knowledge of vacation destinations big and small. With 8 years in the tourism industry, she brings you updates on how to make the most out of your time, money and energy in her favorite cities throughout America.