Get an inside look at the Dolly Parton's Stampede in Branson, Missouri. Check out the pre-show, animals, amazing food, and even the gift shop. See why this is the most fun place to eat in Branson with my expert tips on visiting Dolly Parton's Stampede.
Tips for Visiting Dolly Parton's Stampede
Ready to bring your entire family to the Stampede in Branson, MO? Keep these tips in mind for an out-of-this-world experience.
Park in the Back
Parking for all guests is available in the back of the venue. There is ample parking, but it is best to get here early and claim your spot. On your way into the show from the parking lot, you'll pass by the show's horses. The show boasts a total of 32 talented horses. Take your time and say hello!
Arrive Early
In addition to claiming your parking spot, arriving early to the show has other benefits, including:
Watching the jaw-dropping and entertaining pre-show.
Browsing the gift shop.
Spending ample time with the horses.
Getting your virgin strawberry daiquiri in Dixie Stampede souvenir glasses.
Finding your seat in the state-of-the-art dinner show arena!
There's Not a Bad Seat in the House
With the show's unique production and arena seating, there's not a bad seat in the house. No matter where you sit, you'll enjoy a one-of-a-kind performance you'll remember for a lifetime as you root for your team in competition-style events.
Chow Down
Come to Dolly Parton's Stampede hungry! This outstanding meal is one for the books. Plus, it's served without silverware so be prepared to eat with your hands. Or, simply bring your own.
Get Your Dolly Parton's Stampede Tickets
For the best Stampede experience, purchase your tickets ahead of time at Reserve Branson. You'll skip the ticket line and head straight to the arena for a show filled with family, food, and fun.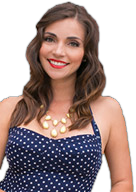 Bianca is a travel professional, and prides herself on her knowledge of vacation destinations big and small. With 8 years in the tourism industry, she brings you updates on how to make the most out of your time, money and energy in her favorite cities throughout America.